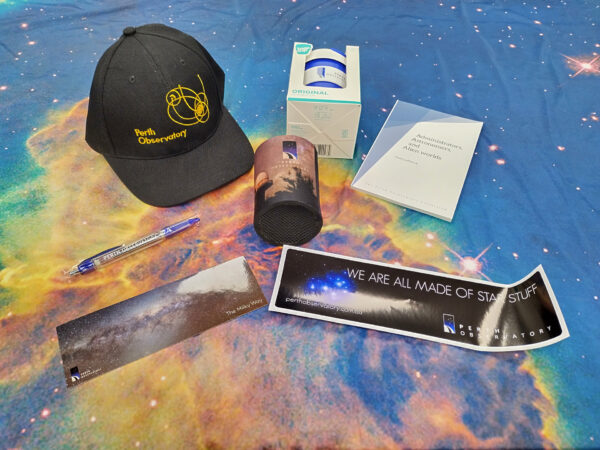 Join the Friends of Perth Observatory and embark on a thrilling journey through the wonders of the cosmos. Our packs are designed to offer exclusive benefits, discounted access to events, and a fantastic range of Perth Observatory merchandise. With options for adults and concession members, there's something for everyone to enjoy.
Friends of Perth Observatory Pack – $70 for Adults, and $60 for Concession
What's included:
Immerse yourself in captivating astronomical knowledge with free attendance at the next scheduled summer lecture.
You'll receive a unique membership ID number that grants you a generous 20% discount on NST Bookings. Witness celestial marvels through our powerful telescopes and create unforgettable stargazing experiences.
Display your membership proudly and enjoy a 10% discount on all shop items. Choose from an assortment of astronomy-themed books, souvenirs, and unique gifts to commemorate your astronomical adventures.
Shield yourself from the sun while proudly displaying your love for the Perth Observatory with our stylish cap.
Adorn your fridge or any magnetic surface with our beautiful Perth Observatory magnet, featuring stunning celestial imagery.
Keep your favourite beverages cool and celebrate your astronomical passions with our handy Perth Observatory stubby holder.
Delve into the rich history of the Perth Observatory with our informative and captivating historical info book.
Show your support for the Perth Observatory with our eye-catching bumper sticker. Let others know about your fascination with the stars and the wonders of the universe.
Write down your celestial musings or jot down astronomical observations with our sleek and functional Perth Observatory pen.
Sip your favourite hot or cold beverages in style with our durable and eco-friendly Perth Observatory coffee keep cup. Perfect for those early morning stargazing sessions or late-night astronomical discussions.
Join the Friends of Perth Observatory today and unlock a world of astronomical exploration, educational lectures, discounts, and exclusive merchandise. Become a part of our passionate community and embark on an extraordinary journey through the cosmos.
Purchase Your Pack Today